Easter Hampers & Baskets From Hampergifts.co.uk
If Christmas is the biggest season of indulgence, Easter can't be far behind. At least, not where choclate is concerned. That's no surprise, really, as everyone knows the Easter egg is one of the best ways to enjoy chocolate! But there's something to be said for variety around this time of year – that's why Hamper Gifts have created a whole selection of Easter hampers, combining the essential Easter eggs with plenty of other sweets treats and tasty bites.
Order before or on the 31st of March to ensure that your hamper or basket arrives in time for Easter.
Get 5% off all orders.
Discount Voucher Code to enter at checkout where prompted: MARHAMP
Expires 31/03/2015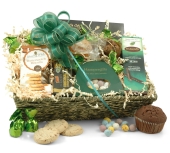 If you're looking for an Easter present with the wow factor, our charming Sweet Easter Surprise contains an amazing selection of chocolates and of course chocolate eggs. Whoever's lucky enough to receive this basket can nibble on the addictive chocolate mini speckled eggs, get stuck into the full-size Easter egg or share out the delicious apple & blackberry cookies.
Price £26.00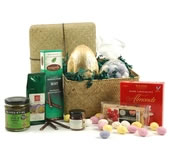 Who says Easter can only be about chocolate? Award-winning olives, sloe gin jam, and fresh ground Brazilian coffee are just some of the enticing goodies you'll discover nestled in this attractive lidded straw box. But don't worry – it is Easter after all, and it wont be long before you unearth the hidden chocolate treasures too – starting with the large traditional milk chocolate Easter egg, delectable Belgian chocolate sticks and leaving just enough room for the incredibly moreish chocolate speckled mini eggs.
Price £27.99
The lucky recipient of this sumptuous basket will be left in no doubt at all that the Easter bunny has paid a visit! In fact, it contains enough chocolate treats for the whole family – although you might want to keep them to yourself. Dive into one of the three large milk chocolate Easter eggs, share out the mini golden Easter eggs or choose your favourite from the delicious selection of Belgian praline chocolates.
Price £37.50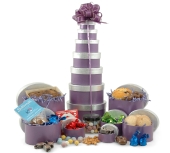 Wow! This impressive Easter Tower certainly has the edge over bog-standard chocolate eggs. It does include a large chocolate Easter egg of course (it wouldn't be Easter otherwise) – but we've also added a huge array of other goodies. With enough to share around an office – or the whole family – you'll be amazed by the sheer variety of chocolates and treats crammed into this 42cm tall gift tower; from English fudge, honey roasted nuts and cranberry flapjack to mini speckled Easter eggs, chocolate caramels and chocolate marzipan.
Price £39.99
Easter Delight Hamper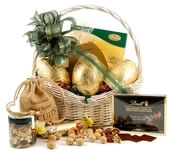 This impressive Easter hamper includes a decadent selection of chocolates, beautifully presented in a whitewash basket. Fight over the selection of mini chocolate quail eggs, enjoy melt-on-your-tongue chocolate thins from Lindt, tuck into the white chocolate Belgian pralines or sit back and slice into the dark chocolate-coated marzipan loaf. This hamper makes the perfect Easter gift… if you can resist keeping it to yourself.
Price £45.00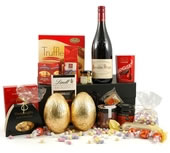 Uncork the delicious ruby-red Beaujolais, peel open the two large milk chocolate Eggs and share out the rest of the tempting goodies this Easter. An eye-catching choice, this lovely Easter hamper includes a little something for everyone. Peek inside the attractive, magnetically sealed box and you'll also find breakfast tea & coffee, cinnamon truffles and moorish olives to accompany the wine.
Price £59.99